To help address the stigma related to substance use and provide training on how to respond to an opioid poisoning, New Afton coordinated off-site naloxone training sessions for staff and their families to attend. In partnership with Interior Health and co-organized by Thompson Rivers University, this hands-on training provided participants with a deeper understanding of substance use and the life-saving role naloxone plays in treating opioid poisoning. The government of Canada reports that the highest rate of opioid overdoses in the country are experienced by men, and that men employed in the trades represent 30-50% of deaths.
Participants were guided through hands-on training by an Interior Health Harm Reduction Nurse on the steps to identify a poisoning and how to respond safely and effectively.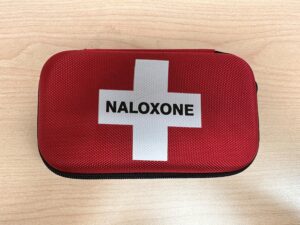 When asked for feedback on the training, staff shared that it made a significant impact, with 92% of participants finding the training highly educational and impactful. This was evident in the percent of participants that increased their knowledge on the topic, with 41% of participants starting the session with little knowledge about naloxone and ending with 92% of participants feeling aware at the end of the session.
"The more people are familiar with and have access to Naloxone the safer our community will be," said Susan Tabor, Team Lead with Interior Health. "Overdose really can affect anyone, and naloxone is just one more tool in our first aid kit. It was an honor to share some time, important information and resources with New Gold staff and families. We look forward to continuing to build these connections and support everyone in having access to the information they need."
The connection between safety tools and naloxone training was reiterated throughout the training. As shared by one participant, "Like CPR or a fire extinguisher, you should have naloxone training and know how to use it but hope you never need to." Taking into consideration the feedback that New Afton heard from staff, future naloxone training sessions will continue to be made available to staff moving forward.
Source: Men in trades and substance use