On September 28th, New Afton participated in the 12th Annual Rivers Day Celebration with students from Bert Edwards Science and Technology School. Every year, the school gathers on the banks of the North Thompson River to get hands-on experience, learning both the scientific and cultural significance of the river.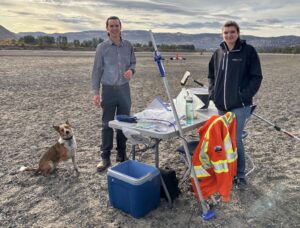 New Afton Senior Hydrogeologist Mike McBride and Environmental Technician Shawn Kratchmer took part, sharing their experiences and skills with the students. Students were given some background on the river and its significance before going with the team to the riverbank to gather water samples. Students worked in pairs and used industry tools to collect the samples and compare river water chemistry to that of tap water. Students and staff from Bert Edwards were very engaged in the process.
Participation in this event with School District 73 exemplifies our value of Integrity through demonstrating environmental stewardship, and value of People and Communities in our dedication to creating sustainable benefits for the communities in which we operate. The event provided students with hands-on lessons about our rivers as well as an exposure to careers in science within the local industry.