At New Afton, our vision is a site where energy and greenhouse gas (GHG) management is self-sustaining. This means energy management is something done by everyone on a day-to-day basis, there is a high level of energy awareness amongst the team, and everyone is working to continually improve energy and GHG performance in everything they do.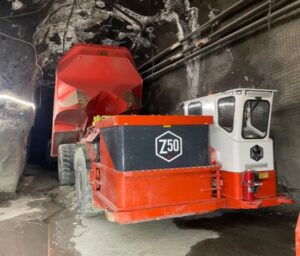 Seeking innovative ways to reduce our societal carbon footprint at New Afton has been a priority for many years. We are proud to be a leader in the mining community by meeting and exceeding GHG emission reduction targets, primarily due to the transition from fossil fuel to greener energy sources. We replaced a portion of our diesel fleet with a Battery Electric Vehicle (BEV) fleet, which currently includes haul trucks, scoop trams, boom trucks and personnel transport carriers, with plans to introduce additional BEVs over the next several years.
New Afton adopted a Thickened and Amended Tailing process with verified energy savings of 40% when compared with conventional dry stack tailings techniques. Employee-led efforts have been increasing year over year, with an estimated 25% increased enrolment in our carpool campaign and bike to work initiatives that ran throughout the last quarter.
Striving to obtain and maintain our AAA rating in the Towards Sustainable Mining (TSM) Energy Use and GHG Emissions protocol is a testament to our commitment to practicing energy management at the highest level. As a result of our dedication and consistent efforts, New Afton was recently recognized by the Mining Association of Canada with their 2023 TSM Environmental Excellence Award. Ultimately, this award signifies New Afton's commitment to responsible mining for the future and validates our team's effort to realize the vision we have created – a site where energy and GHG management are self-sustaining.