In 2023, employee-led campaigns to reduce emissions by changing the way staff commute to work demonstrated our commitment to New Gold's Values of Integrity, by doing what is right and demonstrating environmental stewardship. Both the carpooling initiative and participation in GoByBike Week aimed to empower employees to make changes in their own lives to reduce emissions.
With the engagement of 38 carpoolers, this first phase of the Carpooling Program saw 45 carpooled trips that covered an impressive distance of approximately 3,410 kilometres. That is further than the direct distance from Kamloops to Ottawa! This collective effort has translated into an estimated reduction of 656kg of carbon dioxide equivalent emissions. Taking lessons from this first phase, this fall saw employees initiate another phase of the Carpooling Program which is expected to make a continued emissions reduction impact.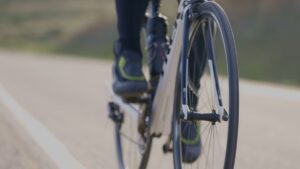 After a successful Spring GoByBike Week earlier this year, 35 employees took part in the Fall GoByBike Week, logging over 5,163 kilometres by bike or carpool. This effort is estimated to have burned over 150,000 calories and a greenhouse gas (GHG) emissions reduction equivalent of 1,119 kg that would have been produced by commuting to work in individual vehicles. The Spring and Fall initiatives had a combined outcome of 1,823 kg of GHG emissions reduced, a testament to our strong site participation in this excellent program.
These outcomes not only underscore the positive impact of changing how we look at commuting to work on our environment but also highlight the potential for reducing our carbon footprint through simple yet effective strategies. These initiatives made tangible contributions towards reducing emissions and promoting eco-friendly practices. As we continue to embrace these initiatives and others, these results serve as a testament to the power of collective action in creating a greener and more sustainable future for all.